Featured Presentations

---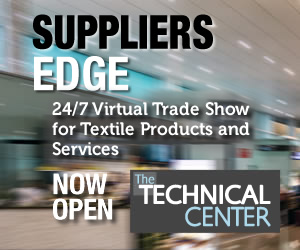 Fabric University | Fabric Seminar | Fiber Characteristics |

Acrylic
Fiber Characteristics
ACRYLIC
Manufactured Fiber
CHARACTERISTICS:
Luxurious appearance

Crisp or soft hand

Wide range of colors; dyes and prints well

Excellent drapeability and softness

Shrink, moth, and mildew resistant

Low moisture absorbency, relatively fast drying

No pilling problem, little static problem

Most acetate garments require dry-cleaning
MAJOR END USES:
Apparel - sweaters, socks, fleece, circular knit apparel, sportswear, childrenswear

Home Fashions - Blankets, throws, upholstery, awnings, outdoor furniture, rugs/floor coverings
Comments - Acrylic is a soft drapeable fabric which provides warmth without being heavy. It takes color beautifully. Although acrylic has traditionally been a fall/winter fabric, with a wonderful resemblance to wool, acrylic has recently been used in developing some light weight circular knits and blends which lend themselves to trans-seasonal dressing as well. Acrylic is comfortable to wear. It feels like wool. Yet, it is easy care and is machine washable or dry cleanable.
Return to Fiber Characteristics Index
Continue to Fiber/Fabric Care
Or, Return to Seminar Index
Please let us know your comments about this site. Or, contact us to find out more about our live seminar programs for major retailers, associations or consumer groups.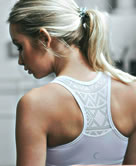 ZYIA - Item 107 - White Bomber Bra
A customer favorite, our vented Bomber bra offers a beautiful blend of form and function so perfect, you're going to want to stock up. The bomber provides medium all-day support without hardware, making it as easy to own as it is to wear. A flattering, supportive fit and charming racer back detail will make you want to show it off.

Shop for this technology>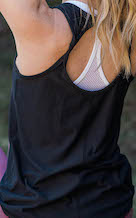 ZYIA - Item 320 - Black Twist Tank
A stylish, and highly functional top, our twist tank features a twisting strap that layers well with all your sports bras while keeping you cool. Four-way stretch fabric and flat-serged interior seaming offer maximum comfort without chafing. The versatile design features a slightly scooped hemline and medium-high neckline, making it a go-to choice for any activity.

Shop for this technology.