Featured Presentations

---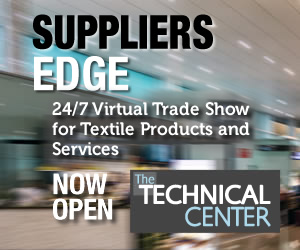 Fabric University | Knit Construction Resource | Metallic Yarn
Sweater Knit & Yarn Resource
METALLIC YARN
| | |
| --- | --- |
| The Metallic Yarn manufacturing process begins by using micro widths of metallic film rolled onto spools. The film is available in a variety of brilliant reflective colors and gold and silver. Supportive two-end single slit yarns (nylon or polyester) are then used as wrapping yarns with one end of the supporting yarn being wrapped clockwise and the other end being wrapped counterclockwise around the metallic yarn. The wrapped yarns are then wound onto cones. The finished metallic yarns can then be twisted with other fibers such as wool, nylon, cotton and synthetic blends to produce yarns which add novelty effects and sparkle to the finished fabrics. Thanks to a coating treatment, these yarns resist tarnishing. And although today's metallic yarns are fairly durable, special care must be taken in the cleaning and ironing of these fabrics. | Metallic Yarn |
Return to Knit Construction Resource Index
Please let us know your comments about this site. Or, contact us to find out more about our live seminar programs for major retailers, associations or consumer groups.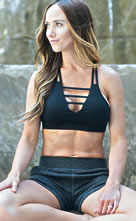 ZYIA - Item 108 Black Grid Bra
This bra provides performance without giving up any points for style. It has a fully-lined elastic bottom band for firm lower support, with adjustable "hook and loop" style shoulder straps for support that won't slack off. To keep you fresh and cool, it has a mesh V at the front and mesh back straps for ventilation

Shop for this technology>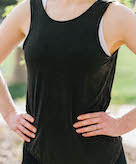 ZYIA - Item 916 - Black Twist Slouch Tank
Elegance meets comfort in this graceful, slouchy tank with a twisted surprise. You'll never tire of the velvety soft feel of its fabric or the flirty design of its open back. For hot and humid workouts—or late nights on the dance floor—nothing beats the effortless feel of this highly breathable top.

Shop for this technology.