Featured Presentations

---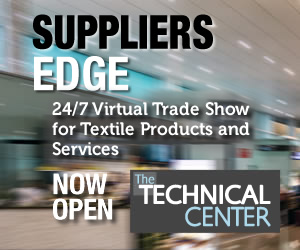 Fabric University | Knit Construction Resource | Curl Edge Trim
Sweater Knit & Yarn Resource
CURL EDGE TRIM
| | |
| --- | --- |
| A separate knitted trim that is attached (either sewn or linked) to the edge of a sweater knit fabric to form a finished trim or edging. The separate trim utilizes a 1 X1 rib construction. However, in which the last few courses (rows of loops) on one side of the trim (about ½ inch) the construction is changed from a 1 X 1 rib to a plain stitch knit construction. The curled edge occurs on the plain stitch side of the trim, and stops curling when the construction changes from the plain stitch to the 1 X 1 rib construction. When the trim is linked or sewn to the edge of the knitted fabric that is to be trimmed, the rollover or curled edge of the trim creates a finished edging on the knitted fabric. This type of finished edge can be used in such areas of a garment as the front panels of a cardigan sweater. | Curl Edge Trim |
Return to Knit Construction Resource Index
Please let us know your comments about this site. Or, contact us to find out more about our live seminar programs for major retailers, associations or consumer groups.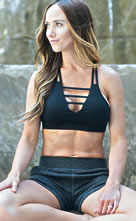 ZYIA - Item 108 Black Grid Bra
This bra provides performance without giving up any points for style. It has a fully-lined elastic bottom band for firm lower support, with adjustable "hook and loop" style shoulder straps for support that won't slack off. To keep you fresh and cool, it has a mesh V at the front and mesh back straps for ventilation

Shop for this technology>

ZYIA - Item 1215 - Black Cammo Havana Tank
Incredibly lightweight and breathable, our Havana tanks still carry a remarkable amount of attitude. The four-way stretch fabric & superior sweat wicking highly breathable design is paired with a supremely stylish camo pattern. Tiny stripes of mesh ventilation offer enhanced breathability and evaporate performance.

Shop for this technology.