Featured Presentations

---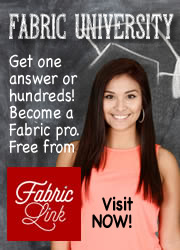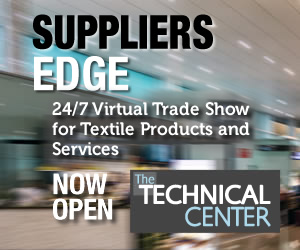 Fabric University | Knit Construction Resource | Crochet Edge
Sweater Knit & Yarn Resource
CROCHET EDGE
| | |
| --- | --- |
| The crochet stitch forms a beautiful plain edge finish on a wide variety of knitted fabrics. Using a crochet machine, a variety of garments can be finished with a decorative or retentive covering edge. Crochet machines can be configured to produce a rolled edge, a two-thread stitch for additional color and contrast, or a single- or double-course edge. | Crochet Edge |
Return to Knit Construction Resource Index
Please let us know your comments about this site. Or, contact us to find out more about our live seminar programs for major retailers, associations or consumer groups.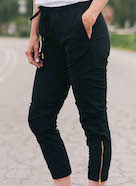 ZYIA - Item 895 - BlackEverywhere Zipper Jogger
If you like our Everywhere pant, you'll love how we've blended their relaxed feel and dressy look with the modern cut of a jogger. The perfect ankle length and flattering fit mean they can easily be dressed up with boots and a blouse or fit right in at the gym with sneakers and a tank.

Shop for this technology>

ZYIA - Item 1215 - Black Cammo Havana Tank
Incredibly lightweight and breathable, our Havana tanks still carry a remarkable amount of attitude. The four-way stretch fabric & superior sweat wicking highly breathable design is paired with a supremely stylish camo pattern. Tiny stripes of mesh ventilation offer enhanced breathability and evaporate performance.

Shop for this technology.