Featured Presentations

---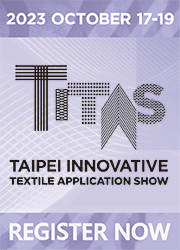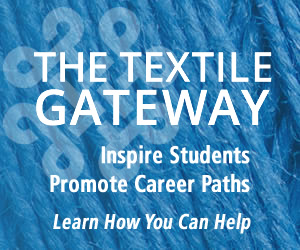 Fabric University | Knit Construction Resource | Ladderback Jacquard
Sweater Knit & Yarn Resource
LADDERBACK JACQUARD (face and back)
A knitted rib jacquard construction in which a jacquard design on the 1 X 1 rib face of the fabric is created by taking up and knitting into the pattern a second set of yarns from the back side of the fabric. The Ladderback Jacquard construction is characterized by several floater yarns, not knit into the design, forms a ladder type image on the back side of the knitted fabric.

Ladderback Jacquard (face)
Ladderback Jacquard (back)

Return to Knit Construction Resource Index
Please let us know your comments about this site. Or, contact us to find out more about our live seminar programs for major retailers, associations or consumer groups.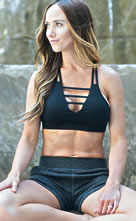 ZYIA - Item 108 Black Grid Bra
This bra provides performance without giving up any points for style. It has a fully-lined elastic bottom band for firm lower support, with adjustable "hook and loop" style shoulder straps for support that won't slack off. To keep you fresh and cool, it has a mesh V at the front and mesh back straps for ventilation

Shop for this technology>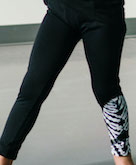 ZYIA - Item 1562 - Girl's Black Hendrix Performance Leggings
Dance, jump, or run, these unique leggings let you move without worrying about your clothes. Our matte Performance fabric has amazing stretch, moisture wicking, and all-over compression. This mid-rise design will stay put. This groovy retro twist on the classic black legging is the perfect starter piece for you to create a dozen different looks.

Shop for this technology.