Featured Presentations

---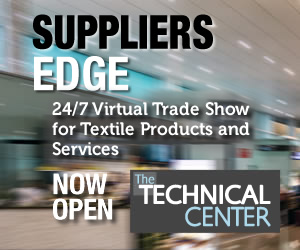 YELLOWING

Always read and follow the care instructions and any warnings on the garment label. And, follow the General Rules for washable fabric stain removal.

Some fabrics which are white or pastel colored contain optical brighteners or fluorescent whitening agents (FWAs) which were applied during manufacturing. These agents can decompose when exposed to light and atmospheric conditions, or prolonged storage conditions. In some cases the entire fabric becomes dingy or develops a yellow cast. In other cases the yellowing develops only where exposed to light. The FWAs can also be damaged by the use of chlorine bleach.

Unfortunately, once the FWAs are damaged, the whitening agents can't be reapplied to the fabric.
All fabric bleach or the use of speciality products available in grocery or drug stores, such as Rit's "Whitener and Brightener" may help. Carefully read and follow the instructions on the product label, and check for colorfastness first.
Also see "Dinginess, Yellowing, Graying," in this list.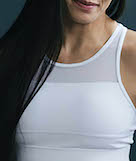 ZYIA - Item 208 White All-Star Bra
For high-impact sports and long workouts, nothing beats the functionality and support of our All Star. The high-fit neckline lets you focus on your workout while the mesh panel keeps you cool. A wide, ventilated back panel and zippered racer back construction offer additional stay-in-place support and a touch of style that makes this bra worth wearing solo.

Shop for this technology>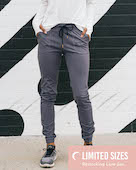 ZYIA - Item 1197 - Dark Gray Peak Zipper Jogger (Long) 31
Inspired by classic athletic warm-up pants, these joggers offer the super-smooth feel and performance of our four-way stretch legging fabric, but in the casual cut of a jogger. The elastic cuffs have stylish vertical zippers to make it easy to take off without removing your shoes.

Shop for this technology.