Featured Presentations

---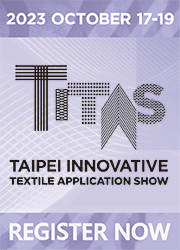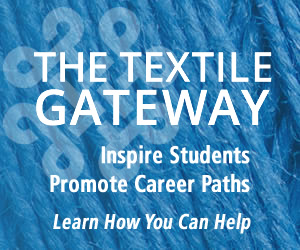 Stain Guide | Washable Fabrics | Tomato based stains


Stain Guide for Washable Fabrics

TOMATO BASED STAINS

Always read and follow the care instructions and any warnings on the garment label. And, follow the General Rules for washable fabric stain removal.

Saturate the area with pretreatment laundry stain remover. Wait a couple of minutes for the product to penetrate the stain. For stubborn stains, rub with heavy-duty liquid detergent. Launder immediately.
If color stain remains, soak the entire garment in a dilute solution of all-fabric powered bleach. Be aware that all the colors may lighten.
If the stain persists, and the garment is white or colorfast, soak in a dilute solution of liquid chlorine bleach and water. But, be sure to read the garment label regarding the use of bleach. Bleach can damage some dyes and prints, and bleaching damage is irreversible. And, if the stain is not removed in 15 minutes, it cannot be removed by bleaching and further bleaching will only weaken the fabric.
Caution - Since bleaches can alter the color of a fabric as well as the stain, bleach the whole garment and do not try to bleach just the spot (again, be sure bleaching is pemitted).
For heavy stains, apply dry-cleaning fluid to back of stain over absorbent white paper towels. (Check product label for instructions and follow carefully.) Let dry; rinse. Proceed as above.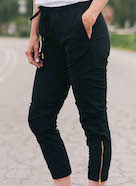 ZYIA - Item 895 - BlackEverywhere Zipper Jogger
If you like our Everywhere pant, you'll love how we've blended their relaxed feel and dressy look with the modern cut of a jogger. The perfect ankle length and flattering fit mean they can easily be dressed up with boots and a blouse or fit right in at the gym with sneakers and a tank.

Shop for this technology>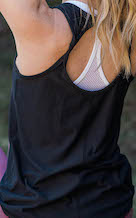 ZYIA - Item 320 - Black Twist Tank
A stylish, and highly functional top, our twist tank features a twisting strap that layers well with all your sports bras while keeping you cool. Four-way stretch fabric and flat-serged interior seaming offer maximum comfort without chafing. The versatile design features a slightly scooped hemline and medium-high neckline, making it a go-to choice for any activity.

Shop for this technology.