Featured Presentations

---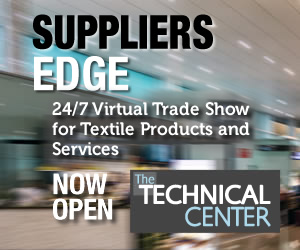 Stain Guide | Washable Fabrics | Paint, water-based


Stain Guide for Washable Fabrics

PAINT, water-based

Always read and follow the care instructions and any warnings on the garment label. And, follow the General Rules for washable fabric stain removal.

Act fast, and blot and never rub a stain. Rubbing forces the stain deeper into the fabric.
Soak in cold water.
Saturate the area with an aerosol pretreatment laundry stain remover. Wait a couple of minutes to allow it to penetrate. Rub with a heavy duty liquid laundry detergent and then launder immediately in hottest water safe for the fabric.
If the color remains, launder in chlorine bleach if safe for the fabric or in oxygen bleach (Always read and follow the care instructions on the garment label with respect to the use of bleach, and check for color fastness. Bleach should not be used on items containing spandex).
For extra heavy stains, apply dry-cleaning fluid to the back of the stain over white, absorbent paper towels. Let it dry. Then, rinse and proceed as above. Always read the label and proceed carefully when using dry cleaning fluid.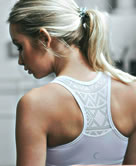 ZYIA - Item 107 - White Bomber Bra
A customer favorite, our vented Bomber bra offers a beautiful blend of form and function so perfect, you're going to want to stock up. The bomber provides medium all-day support without hardware, making it as easy to own as it is to wear. A flattering, supportive fit and charming racer back detail will make you want to show it off.

Shop for this technology>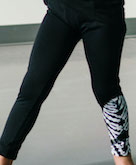 ZYIA - Item 1562 - Girl's Black Hendrix Performance Leggings
Dance, jump, or run, these unique leggings let you move without worrying about your clothes. Our matte Performance fabric has amazing stretch, moisture wicking, and all-over compression. This mid-rise design will stay put. This groovy retro twist on the classic black legging is the perfect starter piece for you to create a dozen different looks.

Shop for this technology.