Featured Presentations

---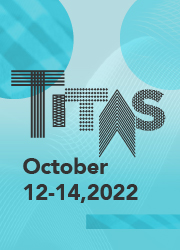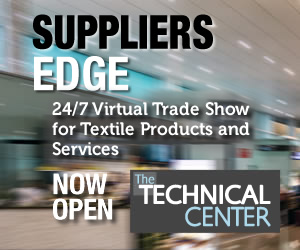 MILDEW

Always read and follow the care instructions and any warnings on the garment label. And, follow the General Rules for washable fabric stain removal.

Mildew is a growing organism that must have warmth, darkness, and moisture to survive. Mildew actually eats cellulosic fiber and can also attack manufactured fibers, causing permanent damage and weakening of fibers and fabrics

To treat mildew first carefully brush or shake off mildewed area.

Pretreat the stains by rubbing the areas with a heavy-duty liquid detergent. Then launder in the hottest water safe for the fabric, using bleach safe for fabric. (Chlorine bleach is best if OK for the fabric.) Always check for colorfastness before using bleach.

Let item dry in the sun.

Badly mildewed fabric may be damaged beyond repair. Old stains may respond to flushing with dry cleaning fluid, i.e., Carbona, Energine, Goddard's (Carefully read and follow the instructions on the product label).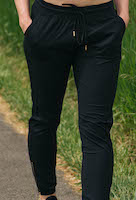 ZYIA - Item 889 - Black Peak Zipper Jogger
Inspired by classic athletic warm-up pants, these joggers offer the super-smooth feel and performance of our four-way stretch legging fabric, but in the casual cut of a jogger. The elastic cuffs are also equipped with stylish vertical zippers to make it easy to take off without removing your shoes.

Shop for this technology>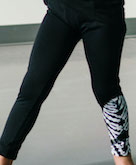 ZYIA - Item 1562 - Girl's Black Hendrix Performance Leggings
Dance, jump, or run, these unique leggings let you move without worrying about your clothes. Our matte Performance fabric has amazing stretch, moisture wicking, and all-over compression. This mid-rise design will stay put. This groovy retro twist on the classic black legging is the perfect starter piece for you to create a dozen different looks.

Shop for this technology.