Featured Presentations

---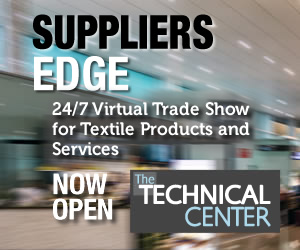 BLOOD

Always read and follow the care instructions and any warnings on the garment label. And, follow the General Rules for washable fabric stain removal.

Flush cold water through the stain and scrape off crusted material.
Soak for 15 minutes in a mixture of 1 quart of lukewarm water, 1/2 teaspoon liquid hand dishwashing detergent, and 1 tablespoon ammonia. Use cool/lukewarm water. Heat can permanently set protein stains. Rub gently from the back to loosen stain.
Soak another 15 minutes in above mixture. Rinse. Soak in enzyme product for at least 30 minutes. Soaked aged stains for several hours. Launder.
If the blood stain is not completely removed by this process, wet the stain with hydrogen peroxide and a few drops of ammonia. Caution: Do not leave this mixture longer than 15 minutes. Rinse with cool water.
If blood stain has dried, pretreat with prewash stain remover, liquid laundry detergent, or a paste of granular laundry product and water. Launder using bleach safe for fabric.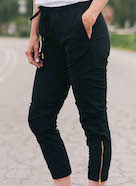 ZYIA - Item 895 - BlackEverywhere Zipper Jogger
If you like our Everywhere pant, you'll love how we've blended their relaxed feel and dressy look with the modern cut of a jogger. The perfect ankle length and flattering fit mean they can easily be dressed up with boots and a blouse or fit right in at the gym with sneakers and a tank.

Shop for this technology>


ZYIA - Item 1520 - Men's Black Briefs (2 Pack)
Built for performance, our briefs work overtime to keep you fresh and funk-free.Unique antimicrobial fabric resists odors, wicks moisture, and stretches every which way. A structured crotch and groin area offer the firm-but-gentle support you want while anti-chafe seaming and strategic ventilation help you go the distance in comfort.

Shop for this technology.