Featured Presentations

---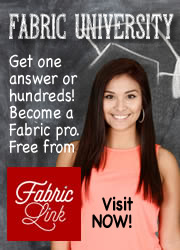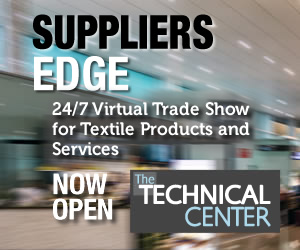 Fabric-isms

Help us collect sayings, phrases, movies, song titles and quotations
containing fabric, apparel or textile terms.
Got a good one? Let us know, and watch our collection grow.
INDEX OF CATEGORIES
---

GENERAL

A corduroy road

A stitch in time saves nine

Belt and suspenders solution

Blue collar worker

Bolt out of the blue

Button hole it

Bust your buttons

Button your lip

Chiffon pie

Clothes don't make the man

Clothes horse

Coming unraveled at the seams

Computer interface

Cross-dresser

Cut from the same cloth

Dressed to kill

Dressed to the nine

Dyed in the wool

A fighter bobbing and weaving

Get fleeced

Glad rags

Grab him by the lapels

Hanging by a thread

He'll give you the shirt off his back

He's cut from the same cloth

Hot under the collar

Mouth as dry as cotton

Neddle in a haystack

Off the cuff

One size fits all

On tenter hooks (meaning to be in a tense or heightened state of anticipation) comes from a process in making woolen fabrics. Tenter hooks hold the woolen fabric on the tenter frame to stretch the fabric back into shape after fulling.

Personality of a wet dish rag

Play dress-up

Pull the wool over your eyes

Police officers gets a "collar"

Pop goes the weasel. - When spinning wool on to a reel (weasel), the pop was the sound made when a certain length of yarn was reached.

Rag Time

Ribbon of lights

Ring around the collar

Roll up your sleeves

Ruffle you feathers

Satin and lace

Satin doll

Sheer madness

Sewing bee

She would look good in burlap

Smooth as silk

Snap out of it

Spin a yarn

The Emperor's New Clothes

The Fabric of Our Lives...
(Cotton Incorporated slogan)

The velvet touch

The Velveteen Rabbit

Turn up your collar

Wear your heart on your sleeve

White collar worker/job

Window dressing

Wolf in sheep's clothing

You can dress him up, but can't take him anywhere

Return to index of categories
---

APPAREL

A coat and tie affair
As stiff as a new pair of jeans
Came in on his coat tails
Colder than a brass bra
Got caught with your britches down
Don't get your knickers in a knot!
Don't get your panties in a wad!
Everyone puts pants on the same way..
one leg at a time.
Faked out of his jock
He lost his shirt
Hot pants
Joseph and the coat of many colors
Keep your pants on

Little black dress
New Jersey
Pajama party
Roll up your sleeves and get to work.
Skirt the issues
Stuffed shirt
Suit up
Sunday clothes
That's a kick in the pants!
Too big for his britches
Washing dirty linens in public
Who wears the pants in the family?
Your slip is showing

Return to index of categories
---

ACCESSORIES

A black tie affair
A cloak and dagger novel
A feather in his hat
A real jock
A veil of secrecy
A veiled threat
Bikini Beach
Can´t make a silk purse from a sow´s ear
Handle it with kid glooves
Hang on to your hat
It´s getting deep, put your hip boots on
Keep it under your hat
Keep your hat on

Necktie party
So proud his buttons popped off
Take off the gloves
The Mad Hatter
Tie one on
Throw down the gloves
Tied to your mother's apron strings
Under the cloak of darkness
Using belt and suspenders
White glove treatment
You can't hide behind your mother's apron

Return to index of categories
---

SOCKS 'N SHOES

A sock hop
Comfortable as a pair of old shoes
Church socks - holy
Gum shoe
It´ll knock your socks off
Keep your seams straight
Kick off your shoes and stay awhile
Pick yourself up by the boot straps

Put a shine on your shoes
Put a sock in it
Sock it to me
Walk a mile in my shoes
Well heeled
Your mother wears combat boots

Return to index of categories
---

BED & BATH

A blanket statement
A security blanket
Bedding down for the night
Between the sheets
Crying towel
Don't be a wet blanket
Hide under the covers

Pigs in a blanket
Pillow fight
Pillow talk
Put together like a patchwork quilt
Throw in the towel
Towel off
Three sheets to the wind

Return to index of categories
---

HOME FASHIONS

As snug as two bugs in a rug
Cut a rug
It´s curtains for you
Curtain climbers

Pull the rug out from under you
Rug rats
The Iron Curtain

Return to index of categories
---

MOVIES

A Patch of Blue
Arsenic and Old Lace
Blue Velvet
Cotton Club
Cotton Comes To Harlem
Dead Men Don't Wear Plaid
How to Make an American Quilt
Joseph and the Amazing Technicolor Dream Coat
The Lace Maker
Lady in Red

National Velvet
Pajama Game
Petticoat Junction (TV)
Pillow Talk
Silk Stockings
The Man In The Grey Flannel Suit
The Man With One Red Shoe
The Red Shoes
The Robe
Torn Curtain

Return to index of categories
---

SONGS

Alice Blue Gown
A White Sport Coat and Pink Carnation (Marty Robbins)
Baby Makes Her Blue Jeans Talk (Dr. Hook)
Bell Bottom Blues
Black Slacks (The Sparkle Tones)
Blue Suede Shoes
Blue Velvet (She Wore)
Bobby Socks to Stockings (Frankie Avalon)
Buttons and Bows
Cat Clothes (Carl Perkins)
Chantilly Lace
The Chiffons (singing group)
Coat Of Many Colors
Cotton Fields of Home
Cotton Jenny (Gordon Lightfoot)
Dedicated Follower of Fashion (The Kinks)
Devil with a Blue Dress on
Dress You Up (Madonna)
Fashion (David Bowie)
Floatin' Down to Cotton Town
Forever In Blue Jeans
Grandma's Feather Bed (John Denver)
Grandmother´s Apron
Handbags & Gladrags (Rod Stewart)
Here Comes Peter Cottontail
High Heeled Sneakers
Hot Pants (James Brown)
How Do You Mend A Broken Heart (Bee Gees)
I Am A Material Girl (Madonna)
I Danced With A Dolly With A Hole In Her Stocking
I Got Five Patches In My Overalls
Itsy Bitsy Teenie Weenie Yellow Polka Dot Bikini
Jean
Jeans On

Lady in Red
Leather and Lace
Lipstick On YOur Collar
Long Cool Woman in a Black Dress (Hollies)
Mini Skirt Minnie (Wilson Pickett)
My girlfriend´s Quilt
Night in White Satin (Bee Gees)
Nylons (Group Name)
One Size Fits All
The Orlons (singing group)
Patches
Pink Petal Pushes (Carl Perkins)
Pointed Toe Shoes (Carl Perkins)
Rag Doll
Rags to Riches
Scarlet Ribbons
Sam You Made The Pants Too Long (Barbara Streisand)
Seamless
Sharp Dressed Man (ZZ Top)
Silver Thread and Golden Needles
Sister Suzie Sewing Shirts for Soldiers
These Boots are Made for Walking (Nancy Sinatra)
The Thong Song
The Twentieth Century Rag
Tie a Yellow Ribbon 'Round the Old Oak Tree
Tie Me to Your Apron Strings, Again
Tuxedo Junction
Twentieth Century Rag
Two Silhouettes on the Shade
Wooly Bully
The Velours (Group)
Velveteens (Group)
Venus in Blue Jeans
You Wear It Well (Rod Stewart)

Return to index of categories
---

QUOTATIONS

A stich in time saves nine
Always wear clean underwear. You don't know when you might be in an accident. - Mom
Beware of enterprises that require new clothes. - Henry David Thoreau
Bless your cotton pick´n heart. Tennessee Ernie Ford
Oh! what a tangled web we weave.
When life gives you scraps, make a quilt.

Return to index of categories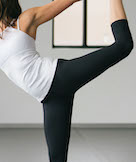 ZYIA - Item 882 - Black Light N Tight Hi-Rise Crop 17
Our most popular leggings. This high-performance design offers a firm compression that feels oh-so-supportive whether you plan to run a marathon or just run the day. The fitted design and high quality fabric contours to your shape & stay in place for a frictionless, effortlessly flattering look.

Shop for this technology>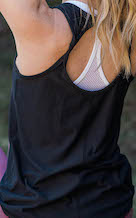 ZYIA - Item 320 - Black Twist Tank
A stylish, and highly functional top, our twist tank features a twisting strap that layers well with all your sports bras while keeping you cool. Four-way stretch fabric and flat-serged interior seaming offer maximum comfort without chafing. The versatile design features a slightly scooped hemline and medium-high neckline, making it a go-to choice for any activity.

Shop for this technology.