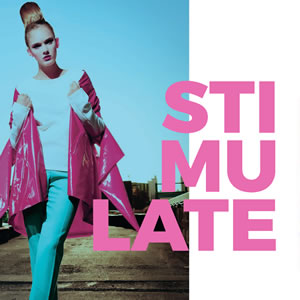 ATTITUDE
The overwhelming sameness of mainstream global fashion has made it more challenging than ever to entice consumers into buying. STIMULATE utilizes visual aspects to provide newness and excitement by playing with the luminosity of Sensil® yarns to create optical surface effects with a very modern approach. These include surfaces that shine with a modern techno edge, super lightweight circular knits and wovens with a clear plexiglass effect, and stretch sateens with a super high level, almost acetate, gloss.
The interaction of the body's movement with performance textiles is super important, triggering a response and stimulation through friction, and leading to wellbeing and enhanced performance.
This modern, gleaming appearance is a perfect way to complement the matte qualities emerging in other trends. Micro perfection and a silky touch are important, with surfaces given a 3D visual effect through yarn use. Bold and sassy, an intense luminosity features, working the yarn's luster and cross-section to create dazzling finishes from subtle to full-on with an almost reflective wet look.
Visually stimulating that will definitely pique the consumer. Mesmeric in appearance, use moiré and watermark effects through to illuminated sateens. The luminosity achieved is perfect for the proposed color palette in delivering vibrant tones for the ready-to-wear market as well as infiltrating other key sectors. Let it shine with Sensil!
COLOR
A sensorial range of tones comes through, achieving the best results with a high-level luster and gloss. Light refraction distorts surfaces in creating hues that float and move in an intense and stimulating manner. Team the bright tones with dope-dyed black yarns to create a contrasting grunge aspect.
MATERIAL INSPIRATION & TEXTURAL APPEAL
Body-mapping seamless for active and sports - with decorative aspects — Super smooth surfaces with optical aspects — Ethereal circular knits & seamless - featherweight and spectacular — Interaction and connection from fabric with body — Next gen brilliance.


Explore another ATTITUDE by clicking on it's image below. Visit NILIT®'s info page and learn about all of their performance fibers.
© 2019 NILIT FABRICS