ATTITUDE
As the world becomes in-creasingly connected and interdependent, multicultur-alism has emerged as a major macro trend. From urban environments and multi-racial neighborhoods to cuisine and the arts, we enjoy the rich variety the world's civilizations offer and embrace a growing commitment to equality and eco-consciousness.
On the other hand, the desire to maintain our unique cultural and personal identity is still strong. We pay to have our DNA tested and explore our genetic history. We love anything "throwback," or pre-internet, especially traditions. More than just cultural appropriation, this is about honoring, reviving and respecting the past. Consumers are seeking to personalize when they customize. They are looking for ways to say: I am unique and I want to share my uniqueness with the world. The surge in popularity of tattoos and the personalization of everything from sneakers to blue jeans are part of this.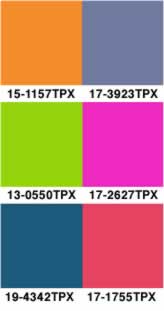 Cultural traditions have always inspired textiles. Nostalgia marketing shifts towards a stronger sense of sentimentality as a homage to values features, looking at memories of the past that reassure, translating into sensational touch and soothing textures. IDENTITY is about exploring the past combined with delivering a new take for 21st Century living, updated with sustainability and a social message. The heritage of Sensil® – Nylon 6.6 was developed in the early 20th Century as the original manmade silk, but has been updated for today's lifestyle while preserving its core features – delivers on this promise. Get inspired by structures and prints. For seamless, look to openwork effects and contrasting colors. This trend is overwhelming, energetic and exciting in its interpretation.

COLOR
A warm and opulent offering that will work with the predominantly matte touch of this group. Classic indigo features, but shouldn't be confined to denim. Primary-based tones will keep a naive and simplied direction.
MATERIAL INSPIRATION & TEXTURAL APPEAL
Dropstitch effects for seamless or optical prints on perfect circular knit and woven surfaces — Innovative melange - highlight colors and irregularity — decorative openwork,important for seamless — Diaphanous paper touch in circular knits and wovens — Organic luster


Explore another ATTITUDE by clicking on it's image below. Visit NILIT®'s info page and learn about all of their performance fibers.
© 2019 NILIT FABRICS